About Us
Growth. Sustainable, scalable, controllable growth. At the most economic investment.
If that's your aim, you need digital marketing.
We devise, implement & manage digital marketing strategies.
But not for everyone.
For businesses that see the value in generating enquiries, that understand ROI. That see the sense in tracking everything.
For businesses that want the "Edge".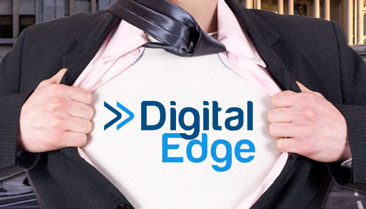 We give businesses the "Digital Edge". Because things move so fast online, you need a trusted advisor to guide you, to tell you what's working -and what will work for you.
To our clients we are invaluable trusted advisor, just like their lawyer and accountant.
Someone who can understand your business and your clients. And then fuse together the correct digital techniques to get your phone ringing and email blowing up with new, quality enquiries.
As a boutique agency, we keep our client base small & workable, For little more than "off the shelf" SEO packages that others sell, we offer our clients bespoke digital marketing services.

Our MD – Robin Porter – has over 15 years experience in all aspects of digital marketing. Something worth remembering, in a sea of start up agencies.
Having run an SEO agency with over 150 clients, he saw there was little future in the "stack 'em high, sell 'em cheap" business model that many SEO companies engaged in.
"I enjoy really learning about a clients business, digging deep into analytics and implementing digital strategies with them. Seeing them grow & nurturing a long term relationship"
What Do We Do ?
Ok time for some acronyms: SEO (Search Engine Optimisation) . PPC (Pay per Click - Google Adwords advertising , Bing Ads etc). CRO (Conversion Rate Optimisation)
But we take it one step further.
Our aim is to get you enquiries , leads and sales at the lowest possible cost. This means a holistic approach is needed, involving optimising your website's conversion process. It involves digging deep into analytics data and finding out exactly what's going on with your website.
We delve deep into your business to get a thorough understanding. This enables us to recommend the most effective digital strategy, which may also include email marketing, Facebook /Social Media advertising, Youtube, Reputation Marketing, Mobile Apps and more. Every business is different, and we realise that.
And the cost? Lower than you think (we don't go in for the trappings of most media agencies so our overheads are ultra low).
A Few Reasons Why We Are Different
We are your trusted Digital Marketing Advisor
We'll only recommend a strategy that fits & works for your business
Focusing on generating traffic & enquiries; not merely obsessing over Google rankings
Everything is driven by data & competitor intelligence ; no guesswork
15 years Digital Marketing experience - we've learnt the pitfalls to avoid, especially with Google
Over £6 Million spent on Google adwords, giving us unique insights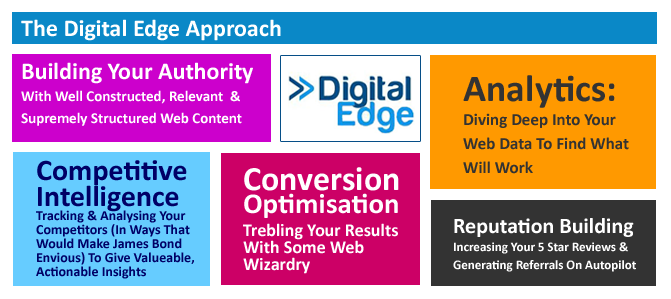 What You Can Expect
We'll talk to you to get a thorough understanding of your business and your customers. We'll look at your processes and advise what digital avenues will give you the best ROI. Everything will be driven to maximise the enquiries from your "perfect" customer type. We will continue to analyse data to see where your business can be optimised online for maximum enquiries. And all this time, we will keep "tabs" on your competitors with out competitive intelligence tools.
Are We A Good Fit For You?
We think a good fit is vital in a working relationship. So we don't work with everyone. Get in touch and we'll have a chat and see if we can help you.

To see if we can help you, please complete our enquiry form.
Digital Edge is a Certified Google Partner and Qualified Adwords Company.